Window Energy Ratings and The Environment
Deerpark Windows Athlone are the only company in the Midlands who manufacture and install "FULLY A-RATED" windows and doors. While other suppliers are reliant on third parties for certification, every installation carried out by Deerpark Windows will carry a WER Certificate directly from Deerpark Windows. This gives our customers the confidence that the products we install in your home not only retain heat, reduce noise and condensation, enhance security and make your home look more attractive but will also help the environment by reducing your carbon footprint.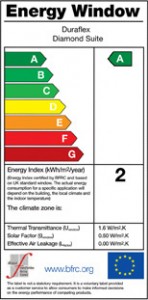 The company that extrudes our PVC-u, Duraflex Ltd., have been awarded the ISO 14001 Environment Management System in recognition of their environmental achievements and their ongoing support for recycling and recycling initiatives.
The Window Energy Rating Scheme allow you to make a fully informed choice about the windows you choose for your home. Ratings go from a poor rating of G to the best rating A. With up to 20% of a homes heat loss being lost through inefficient windows doors, the savings you make can be substantial not to mention the additional comfort and security.
Download a brochure – Energy efficient windows, doors and conservatories – Make a better choice (PDF | 1.77MB)